'MP does not share our concerns' claim Amnesty
Monday 25th October 2021 9:00 am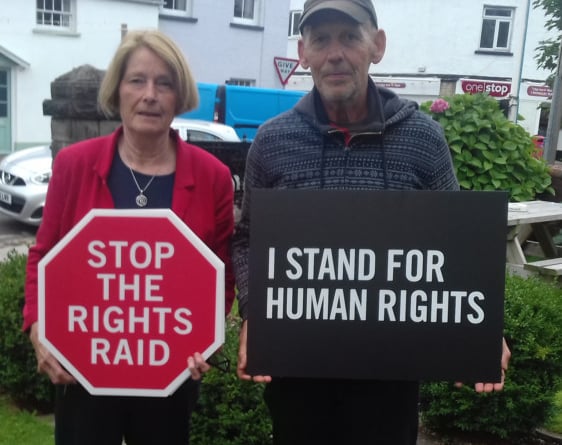 Subscribe newsletter
Subscribe to our email and get updates right in your inbox.
Members of Monmouth Amnesty recently met with David Davies MP to discuss concerns over a raft of new Government measures which could reverse hard-won human rights in the country.
Monmouth Amnesty did not feel the MP shares their serious concerns however David Davies has rejected this claim saying Amnesty International was set up to support prisoners of conscience not to 'take up left wing campaigns'.Amnesty Monmoutshire said their lobbying of the MP was part of an intensive nationwide week of action (October 10-17), with activists from Amnesty - as well as Liberty, Stonewall, Freedom from Torture, the British Institute for Human Rights and others - meeting MPs to urgently raise their human rights concerns. Dubbing the government's proposed new measures a 'raid on rights' activists are urging Monmouth MP David Davies to oppose the moves and to use his influence to seek amendments or otherwise reduce the impact of the 'regressive measures'. In particular, they are concerned about the impact of two controversial bills currently going through parliament, as well as moves to dilute the Human Rights Act. The first bill is the Police, Sentencing, Crimes and Courts Bill, which would place new restrictions on the right to peaceful protest and they claim will 'potentially entrench racism in policing'. The second bill is the Nationality and Borders Bill, which would reduce the right of people to seek asylum in the UK.In a statement following the meeting Mr Davies said: ''It is deeply insulting to British police officers for Amnesty members to suggest that a police Bill will 'entrench police racism'.''The vast majority of British police officers do an excellent job in very difficult circumstances and this bill is about reducing knife crime and making it harder for protesters to disrupt the lives of people trying to get to work as we have seen recently on the M25. ''The Immigration Bill is there to ensure fairness and that the system favours those who followed the rules.''Amnesty International was set up to support prisoners of conscience, Not to take up left wing campaigns.''Amnesty Monmouthshire say the government has also recently signalled that it is likely to amend or even replace the Human Rights Act, which campaigners say underpins and helps guarantee many basic rights and freedoms for people in the UK. Amnesty and others have hailed the act as being vital in landmark justice campaigns, including Hillsborough, the Mid Staffs hospital scandal and tackling modern-day slavery.Stuart Penny from Amnesty Monmouth said: "It took ordinary people a very long time to win these rights and we must not let them be taken away with the stroke of a pen."He added: "Justice, fairness, offering a place of safety and the right to peacefully protest have always been key features of British society. All of them are under threat as never before. We are calling on all MPs to oppose this raid on rights and stand up for the values this country is famous for."After a lively discussion, it was felt that Mr Davies did not share Amnesty's concerns which they believe were highlighted by Mr Davies' voting record. He voted against largely retaining the EU Charter of Fundamental Rights, as part of Brexit, and in favour of repealing the Human Rights Act in 2016.
Comments
To leave a comment you need to create an account. |
All comments 0