THE British Council is on the lookout for teachers to promote the Welsh language over 7,000 miles from home – in the Chubut province of Patagonia, Argentina.
From March to December 2024, the cultural relations organisation is hoping to send three teachers out to the Y Wladfa, the Welsh settlement in Patagonia, to spend 9 months teaching Welsh at one of three schools in the cities and towns of Trelew, Trevelin and Gaiman.
The teachers will be there as part of the Welsh Language Project, which was set up in 1997 to help promote the Welsh language in Patagonia, where there are currently over 6000 Welsh speakers. The region has the second highest volume of Welsh speakers anywhere in the world, after Welsh settlers created a permanent settlement in the Chubut Valley more than 150 years ago in 1865. Now, there are around 50,000 Patagonians of Welsh descent.
As part of the programme, the teachers will develop the language in Patagonia through both formal teaching and informal social activities and this year, two teachers – Llinos Howells and Thomas Door – are about to head out to spend the next three months in the region.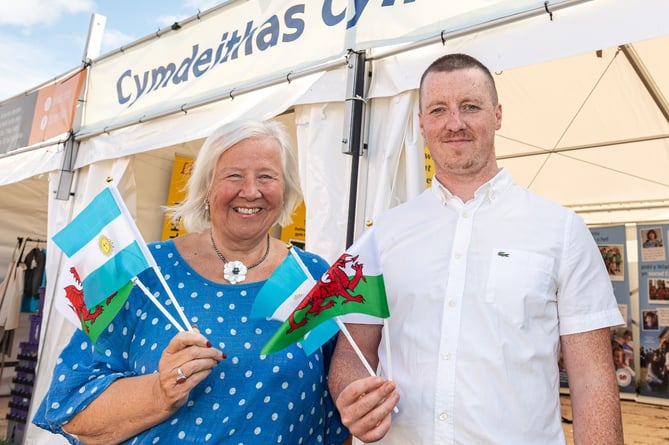 Llinos Howells and Thomas Door, who were at the National Eisteddfod, Boduan, at the weekend are heading out to teach in Patagonia from September to December 2023.
(Dewi Wyn)
Thomas, originally from Aberpennar in the South Wales valleys will teach at Ysgol Y Cwm School in Trevelin. While Llinos, currently a teacher at Santes Tudful Welsh Primary School in Merthyr Tudful, will be placed at Gaiman and Trelew Welsh Primary schools.
Speaking ahead of her departure, Llinos said: "From a young age I have many fond memories of listening to stories and the rich history of the early Welsh settlers in Chubut, and it was always my dream to visit. I have been lucky enough to visit on two previous occasions and felt a very deep connection to the country and its people.
"While out there, I am particularly looking forward to coaching children for competitions in the Eisteddfod as I have had much success in drama and recitation categories in the past. I enjoy watching the children's confidence and passion develop and cannot wait to immerse myself within my new community and learn more about the culture, way of life and also to improve my Spanish."
Thomas added: "To take part in this programme has been a dream of mine for many years. Before the pandemic I was on route to volunteer in Ysgol Y Cwm but unfortunately only made it as far as Buenos Aires, before the country shut down all internal and external flights. This experience is something that will hopefully enrich my teaching and life qualities. To see a Welsh culture thrive in an unfamiliar and peculiar setting is something I, and I'm sure many Welsh people would love to see and experience.
"I would like to broaden my mind to an alternative way of living, immersing myself in another culture, one with touches of familiarity and distance. My girlfriend is from Buenos Aires, so in the last seven years I have grown into a part-time Argentinian and am familiar with a lot of the culture already. We are part of an Argentinian friendship group here in Wales and get together regularly for asados (barbeques), mates (drink) and meriendas (afternoon tea). I am excited to experience living away from my comfort zone, learning more 'español rioplatense' (Argentine Spanish). I want to contribute to Trevelin and Ysgol y Cwm to help give the children and local people positive experiences."
Llinos Howells and Thomas Door, who were at the National Eisteddfod, Boduan, at the weekend are heading out to teach in Patagonia from September to December 2023.
(Dewi Wyn)
Supporting them on the project is Marian Brosschot. From Botwnnog on the Llyn Peninsula in North West Wales, she originally took part in the programme in 2020, however due to the Covid-19 pandemic had to teach mostly online. She now develops digital resources from Wales to support the programme, and creates her own YouTube videos to help people learn Welsh through the medium of Spanish.
She said: "I went to live in Trelew in February 2020, just a month before quarantine started in Argentina, and was able to deliver one lesson in a classroom before starting everything online. The programme made me much more flexible as a person, and I had to think a lot on my feet and be able to deal with challenges as they came up. I also learned a lot about technology and how to use it to connect with people and help them learn.
"One of the biggest things that surprised me about my time out there though was how at home I felt. People were kind, open and interested. Even though you're on the other side of the world, it's such a nice feeling to be around people that speak Welsh. A lot of people are very passionate about learning Welsh as they are the direct descendants of people who came from Wales and have strong feelings about bringing Welsh back into their family. They remember their grandparents using Welsh words and It's got a very strong emotional connection for them.
"To anyone thinking of applying to the programme I would say just go for it. Even though it can feel like a scary thing to do, it's such an exciting programme to be part of and a wonderful experience to live completely in Welsh and Spanish with hardly any need for English."
Applications for the Welsh Language Project are now open until 9 October 2023. Successful applicants will receive £750 a month, plus free accommodation, travel and health insurance.
Encouraging Welsh language teachers and tutors to apply, Ruth Cocks, Director, British Council Wales said: "We are thrilled to open applications for the Welsh Language Project in 2024, an incredible opportunity for teachers to contribute to cultural exchange and Welsh language learning in Patagonia. Since the pandemic, we've found it harder to recruit for the programme, so would encourage anyone with a passion for teaching Welsh to apply. Not only does the programme continue to strengthen the relationship between Wales and Patagonia, but it provides a truly unique, once in a lifetime opportunity for those who participate in it."