After being in Monmouth on Monday last week, with my wife, Nancy, we visited the St James Church graveyard near The Kymin. The reason we were in Monmouth is that we were on our way back from a weekend on the west coast of Wales (we live in Surrey) and decided to stop by the church on the off-chance that Nancy's grandfather is buried there.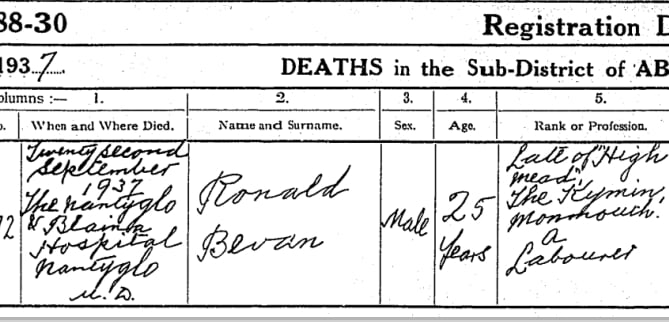 Julia was born in 1938, turned 84 earlier this year and has recently moved into a residential home due to the onset of dementia. Julia's mother never told her much about her father and no name was listed on her birth certificate. However, a DNA test from Ancestry has recently meant that the identity of Julia's father is no longer a mystery. All Julia wants now is a photograph of Ronald, her father.
Over the years, various snippets about her dad had been shared, most notably that he was killed in a motorbike accident in Wales on the way to telling his parents about his girlfriend being pregnant – but no further details were ever forthcoming.
These stories were often dismissed by the family as being a potential cover-up for Julia's mother being pregnant and unmarried. Through exploring Ancestry and various online archives, it has been possible to establish who Julia's father was – based on DNA evidence as a starting point and supported by a substantial amount of additional information.
Our goal is now to find a photograph of Ronald!
We have pictures of two of his brothers (one was in the RAF and died on D-Day) and we have also found his grave at a church in Monmouth. We've contacted a couple of people via Ancestry but they've not been able to help with a photograph.
Given that the family lived in Monmouth (Highmead, 36 Kymin Road) at the time of Ronald's death and that both he and his brother Clifford are buried in Monmouth, we're hopeful that he may have attended school in the town and that there might therefore be school photographs from his younger days. There could also be photographs printed in the press at the time of Ronald's death in 1937 – his niece was carried into the coroner's court on a stretcher and we know the story made the papers!
There might also have been news coverage of Clifford's death in 1944 (possibly including photographs of him and his family in their younger days), especially given the importance of the day he died on whilst serving his country in the RAF.