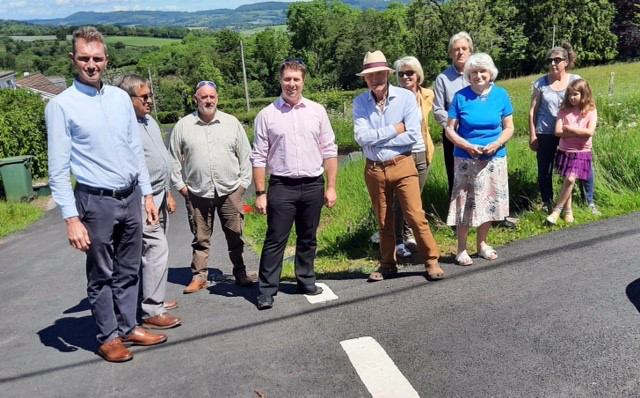 Subscribe newsletter
Subscribe to our email and get updates right in your inbox.
Proposals to lower speed limits around and through Mitchel Troy village are being met with a positive resposne from residents.Mitchel Troy has been plagued by persistant problems with an irresponsible minority of motorists through both Mitchel Troy and Mitchel Troy Common.
The route is often used as a 'rat run' for drivers to gain quick access to the A40, and as such has become the bane of many local residents.Councillor for Mitchel Troy and leader of Monmouthshire County Council (MCC), Richard John has been making the case for lower speed limits in both Dingestow and Mitchel Troy for some time.He told the Beacon: "We've now secured agreement that Dingestow and Mitchel Troy Common will be looked at for speed reductions next year."Cllr John also said that Monmouthshire is rolling out more 20mph zones than anywhere else in Wales. Each community will be assessed on its merits to establish the most suitable locations for a 20mph zone. It will be for traffic engineers to consider the appropiate use of any traffic calming mesaures, such as road markings and signage.He added: "Too many vehicles travel through the village in excess of 30mph. If a child is hit by a car at 40mph, there's a 90 per cent chance they will be killed. Cars travelling at 20mph are less likely to hit a pedestrian, but if they do, there's a 97 per cent chance that the child will survive."According to Mitchel Troy residents, traffic has increased substantially since the new Kingswood Estate was built, that combined with the use from the industrial estates off the Wonastow Road has increased the degradation of the road.Liz Williams and her husband Reverend Owen Williams told the Beacon that they're in full support of the proposal.Mrs Williams told the Beacon: "The junction off Common Road is close to the start or finish of the present 30mph limit, so drivers are either speeding up to leave the village, or have not yet decreased their speed by the time they reach the junction. Pedestrians take their life in their hands as they cross the road to the bus stop or to access the pavement on the opposite side of Common Road where many families and school children live."She added that many families and child minders drive to use Swallow Park playground. Some have said they would walk to the playground if the road was not so dangerous.
Comments
To leave a comment you need to create an account. |
All comments 0