Sisters cross Atlantic in mother of all rows
Friday 28th January 2022 7:00 am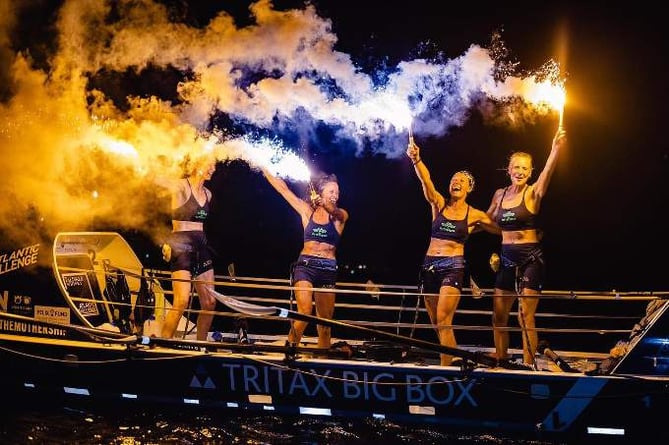 Subscribe newsletter
Subscribe to our email and get updates right in your inbox.
ROWING sisters Pippa Edwards and Felicity Ashley are celebrating an epic 3,000-mile Atlantic crossing in their four-woman boat of mums after reaching dry land in the Caribbean on Friday night.
The duo, who grew up near Chepstow and learnt to row as teenagers at Monmouth School for Girls, made the crossing from La Gomera in their 'Mothership' crew in just 40 days, reports IAN MORGAN.
Rowing with Oxford Blue rowers Jo Blackshaw and Lebby Eyres, they battled 40-foot waves, flying fish and extreme sleep deprivation to row unaided across the ocean.
And they completed the Talisker Whisky Atlantic Challenge letting off flares onboard as they entered Antigua English harbour after sunset to cheers from family and supporters, to finish in a remarkable 40 days 11 hours and 25 minutes!
Amazingly, Monmouth-based mum-of-four Pippa was following in the blade puddles of Old Monmothian husband David Edwards, the Deputy Head (Pastoral) at Monmouth School for Boys, who successfully rowed the Atlantic two years ago.
But she has taken the family bragging rights as The Mothership was a day quicker than it took his boat.
The crew, who between them have 11 children, got their challenge under way in the Canary Islands on December 12 and spent Christmas Day hundreds of miles from land in the middle of the ocean.
They have raised more than £56,000 to be split between three charities - Felix Fund, Noah's Ark Children's Hospice and Women in Sport - from their epic voyage.
And the inspirational all-female boat, who maintained a sense of humour and teamwork throughout, now want to show women and children that no challenge is too great to overcome.
The sisters' parents Bob and Scilla Greenland, who now live in Usk, were able to keep tabs on their progress across the ocean on a website tracking device run by the race organisers.
The quartet, who were the second women's crew to finish, spent the weekend recovering with family and friends after reaching the finish in Antigua.
And marketing director Felicity, who lives in Oxford and competed for Wales as a junior while rowing on the Wye in her schooldays, said: "We are doing really well. We have been getting our land legs back on because we were a bit wobbly when we first hopped off the boat.
"We have all adjusted pretty well to being back on land."
Pippa, who grew up with her sister near Chepstow, added: "My husband rowed in the 2019/20 Talisker Race and it was his dream to do it.
"I supported him but, at the time, I could not really understand why he wanted to do it.
"I took my children over to La Gomera to see the start of David's race and then I came out to Antigua to see the finish.
"It was then that I got the feeling that I needed to be a part of it. The moment when David finished his Atlantic row was the moment that I knew I was going to take part one day.
"I immediately started to get the crew together for the challenge and, two years later, we have done it."
She added: "One of our goals beforehand was to beat the time taken by David and the boys - and we managed to come in a day earlier than they did."
The Mothership crew rowed in shifts, two hours on, two hours off, 24 hours a day in what proved to be a test of mental and physical fortitude.
The crew had a particularly tough Christmas Day. Pippa was attacked by flying fish, which soared out of the Atlantic Ocean, and the boat - a 28-foot Ocean rowing boat called Mrs Nelson - momentarily span out of control when it was caught by a strong wave and headed north.
Pippa said: "It's hard to underestimate the positive impact on morale of a visit from a pod of dolphins or a sighting of a whale.
"It was a slow slog at times and to have 100-plus dolphins decide to spend half-an-hour in our company lifted the spirits.
"As we moved further West, the likelihood of storms or Atlantic squalls increased but, with them, often so did our speed."
In doing the race, the crew wanted to inspire their own children to dream big, to believe that anything is possible.
Pippa said: "In our crew, we are all ordinary women and working mums. We are not professional athletes and we just wanted to demonstrate that if you want something enough you can achieve It – because that's exactly what we have done.
"Thankfully, there were no major incidents. We maintained good relationships and team morale while under constant pressure, which is a huge test of character.
"We achieved one of our main aims – starting and finishing as friends.
"We are hoping to inspire other people to choose - and tackle - their own challenge. We would highly recommend the Talisker Challenge."
Far fewer people have rowed the Atlantic than climbed Everest.
But Monmouthshire has produced more than its share of successful ocean rowers, with Monmouth RC's Andrew Barnett, Elaine Theaker and Steve Hughes also crossing in 2006, 2018 and 2020 respectively.
Comments
To leave a comment you need to create an account. |
All comments 0