Campaign to tackle chewing gum on streets of Chepstow
Wednesday 15th July 2020 7:40 am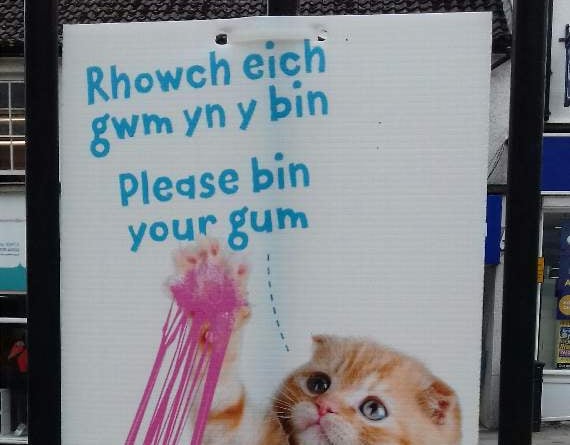 One of the posters used in the campaign
Subscribe newsletter
Subscribe to our email and get updates right in your inbox.
Monmouthshire County Council is working in partnership with the local town council to solve one of Chepstow's stickiest problems – the scourge of chewing gum carelessly deposited on roads and pavements.
The prevalence of chewing gum is second only to cigarette butts on the UK's littered streets but is much more difficult to remove from the environment.
As well as creating an eyesore, and inconvenience for those coming into contact with used gum, it is vitally important that people dispose of it hygienically, particularly as the Covid-19 virus continues to pose a threat.
While a stick of chewing gum costs about seven pence, the removal of each piece from streets and pavements is nearer ten pence.
Just before the pandemic lockdown, Chepstow Town Council requested the county council to assist in removing gum by steam-cleaning, but a recent survey has revealed an incredible 3,438 pieces squashed into pavement cracks, cobbles and tarmac surfaces in certain areas of the town.
Chepstow Town Council has installed signs in Bank Square, St Mary Street, Welsh Street and the bus station reminding shoppers, as well as café and pub goers, to place used gum in a bin.
Leading confectioner Mars Wrigley, the makers of the UK's most popular brands of gum, has provided the signage that has impacted favourably elsewhere to change behaviour.
As well as signs, the town council is investing in Gumdrop bins - the world's first receptacles designed not only specifically for the disposal of waste chewing gum, but also made with waste chewing gum.
Gum collected in the distinctive pink ball-shaped bins is recycled into wellingtons, mobile phone covers and a variety of other useful products by environmental reprocessing company Gumdrop. Several of these bins in neighbouring Caldicot have already reduced the amount of gum thoughtlessly cast to the ground.
The two councils will carry out another survey in a few months to assess the difference bins and signage have made.
Councillor Jane Pratt, Monmouthshire's cabinet member forinfrastructure and neighbourhood services said: "I'm delighted to work together with Chepstow Town Council to seek an improvement to our local streets and pavements.
''Disposing of chewing gum by dropping it on the ground is anti-social behaviour as well as a danger to health. Let's all make a concerted effort to place our used gum where it belongs - in a bin."
Comments
To leave a comment you need to create an account. |
All comments 0